<a href="http://www.tomoson.com/?code=TOPb7eaf529c0f120f9b1a6148e41353c7c" rel="nofollow"><img style="display: none" src="http://www.tomoson.com/images/front/pixel.png" /></a>
WRITING SCARY SCENES
BY RAYNE HALL
Thank you Rayne for the book to review, and I must say another helpful one.
Today after receiving a bunch of things to review today, I was most excited to dive into this book. Like one I've done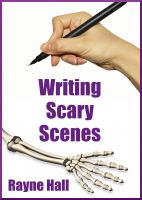 before on HOW TO WRITE IN FIGHTING SCENES, this one is another to help you build a great story. I would say very useful for October, Halloween story tellers, but can be used in any story. However, this isn't for a beginner. You could use this book if you've been writing for a while. You need to know how to build a great story and then this will help for adding to your scary story.
You could use this book to help you add in horror, shock, suspense, anxiety, terror, unease, and a bunch more. Sometimes, you just want to put in something that isn't super scary but something that will allow the reader to feel the fears or feelings that the character is facing. While reading this book, I also notice you can as well create a great scene to get your readers feeling as if they were in that very place with the character. As well, you also get to learn how to use your 5sense to bring the scene and location of the character alive.
An example of using your sense:
I entered the room, the cool, wet rain blowing on my face..I smell the fresh air all around me..However I grab hold of a half rusted bar beside me..Now I'm ready to attack, with the image in my mind. I can only see the deep dark and red blood running down the enemies face as he gets to taste the concrete below him.
That could be away to get those sense in and bring you to feel how the character or characters are feeling. Also in this book you will get some sample stories by Rayne Hall, as well. So not only will this book allow you to learn to make your book even more horrifying, terrifying, or shocking. It will help you understand what words to use and why when building a great story.
You have an opportunity to get this book and write for children, write for adults and write for teens. Depending on who your writing for you will be able to dial it to the right scare level for your reader.
Great book and very informative.
You can check it out here as well as purchase it:
https://www.smashwords.com/books/view/179899?ref=natosha120
I received one or more of the products mentioned above for free using <a href="http://www.tomoson.com/?code=BOTTOMb7eaf529c0f120f9b1a6148e41353c7c" rel="nofollow">Tomoson.com</a>. Regardless, I only recommend products or services I use personally and believe will be good for my readers.